copy of Manuale di Paleontologia. Fondamenti. Applicazioni
In commercio dal:
 29 aprile 2020
Tipo:
 Libro universitario
EAN:

 9788879477147
copertina flessibile
Secure purchase with SSL protocol
Shipments always with Tracking
Goods return policies
See our Shipping and Returns page
Pur essendo la Paleontologia una materia presente in tutti i corsi di laurea in Scienze Geologiche e in Scienze Naturali (ed in diversi casi anche in Scienze Biologiche, Scienze Ambientali, oltre che in Conservazione dei Beni Culturali), da diversi anni mancava un manuale aggiornato e completo a disposizione degli studenti. Il presente volume colma questa lacuna e ringraziamo l'Editore per aver voluto fermamente il progetto di questo libro. Sino dalla prima proposta della casa editrice abbiamo creduto che la migliore scelta da seguire fosse quella di realizzare quest'opera non per mano di pochi singoli, ma come risultato di un impegno collettivo della Società Paleontologica Italiana. Rimaniamo convinti che questa sia stata la scelta giusta, e siamo orgogliosi (insieme a tutti gli autori coinvolti) di vedere realizzata per la prima volta nella vita della SPI un'importante opera, anche se certamente perfezionabile, risultato di uno sforzo comune, sinergico e appassionato di un grande numero di soci a rappresentare le diverse specializzazioni dei singoli ricercatori e docenti, e le diverse realtà presenti nelle sedi di ricerca e di formazione universitaria su tutto il territorio nazionale...
You might also like
€20.00
Regular price
€25.00
-20%
Price
How did the dinosaurs become extinct?Why can't we charge their extinction for a meteorite fall? What caused the catastrophe of the end of the Mesozoic era and what role did the gigantic and particular volcanic eruptions that were going on at the time play?  ITALIAN LANGUAGE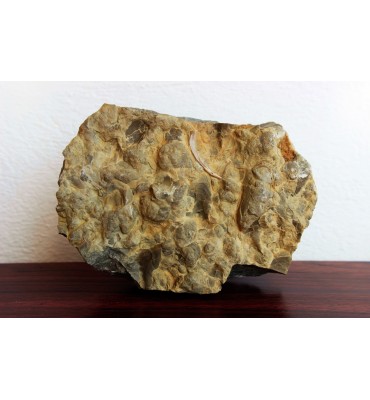 Nothosaurus marchicus (KOKEN, 1893) Age : Triassico. 250 m.d.a.Location : Rüdersdorf. Germania Bone size : 3 cm.Slab size :  13,5 x 9,5 x 5,4 cm.Weght : 918 grams.