Our Brands
There are no manufacturers.
Cleaning tools
Cleaning tools, sandblasters, pneumatic pens, vibro-engravers, cabins, electric pressure washer gun, ultrasonic tanks, drills and accessories, cabins for sandblasters and various tools.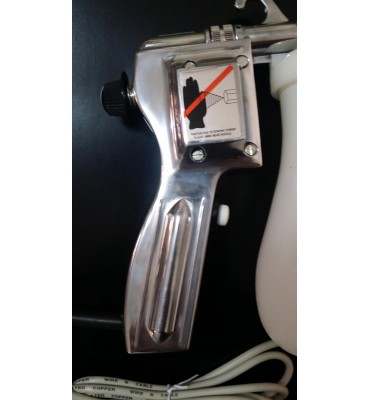 PU013 "Hydrogun" pressure washer gun High pressure electric pressure washer gun (50 hz) Adjustable jet intensity Suitable, for example, for the cleaning of mineral crystals including the detachment of incrustations Operating voltage 220 V delivery in 3/15 days depending on stock availability and delivery country When using, carefully follow the...
Pneumatic pen.It comes with international plug-in coupling for air conditioning compressors. Technical Data:Frequency: 13500 beats/minPressure: 50-90 psi / 4-7 barWeight: 250 gSize: Ø 17 x 160 mmTube length: ca. 2,5 m incl. plug-in couplingHard metal Needle: pointed, medium strength, 38 mm long delivery in 4/14 days depending on the country of destination
Sandblaster with pedal Technical features : Tank capacity: 0.7 kgAir consumption: 16 liters per minute at 2 BAR - 30 liters per minute at 4 BAR Powders: Used powders with diameters from 50µm to 200µm Including aluminium oxide, glass microspheres, Garnite Other types of abrasive that respect the size of the indicated diameter. The working pressure varies...