In dino veritas. Guide to a conscious view of dinosaurs
Volume "In dino veritas". Guide to an aware view of the dinosaurs
Marco Castiello, Marco Lampugnani, Stefano Broccoli
Curator: G. Donati
Editor: Rswitalia.com
Year edition: 2011
Pages: 580 p., Ill. 
EAN: 9788890580208
ITALIAN LANGUAGE
Secure purchase with SSL protocol
Shipments always with Tracking
Goods return policies
See our Shipping and Returns page
Written in the clearest and most precise language possible, "In dino veritas" aims to bring the basics of dinosaur science to readers who are not experts in paleontology and natural sciences, thanks also to the contribution of images and drawings of great paleoartists Italian and international. Using the increasingly widespread theories of cladistic analysis, the volume presents the various groups of dinosaurs, their main anatomical features, their evolution and their peculiarities. Furthermore, to make itself accessible to a larger section of the public, the book presents a general introduction to all those disciplines (comparative anatomy, paleontology, phylogenesis, evolutionary biology, etc.) which are fundamental for a correct view of dinosaurs, now increasingly relegated to exclusively infantile and superficial matter. With more than 470 cards of different kinds of dinosaurs, the book is a complete and updated encyclopedia on dinosaurs in Italian.
You might also like
€20.00
Regular price
€25.00
-20%
Price
How did the dinosaurs become extinct?Why can't we charge their extinction for a meteorite fall? What caused the catastrophe of the end of the Mesozoic era and what role did the gigantic and particular volcanic eruptions that were going on at the time play?  ITALIAN LANGUAGE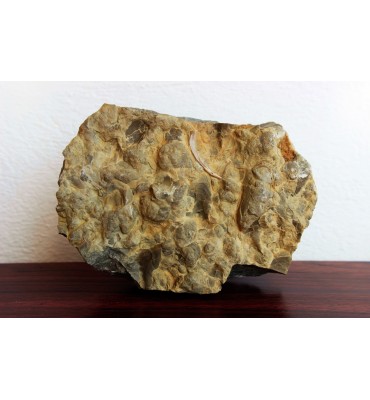 Nothosaurus marchicus (KOKEN, 1893) Age : Triassico. 250 m.d.a.Location : Rüdersdorf. Germania Bone size : 3 cm.Slab size :  13,5 x 9,5 x 5,4 cm.Weght : 918 grams.