Our Brands
There are no manufacturers.
Mineralogy
Volumes dedicated to Mineralogy
DISPONIBILE Guida mineralogica d'Italia De Michele, Vincenzo Guida mineralogica d'Italia di Vincenzo De Michele con la collaborazione di Matteo Boscardin e Giuseppe Scaini fotografie di Carlo Bevilacqua. Novara: Istituto geografico De Agostini 1974 2 Volumi USATO senza sovracoperta Buone Condizioni pari all'originale presenti aloni dovuti al tempo...
Italian type minerals. English by Marco E. Ciriotti, Lorenza Fascio, Marco Pasero Editor: Plus Date of publication: March 2009 EAN: 9788884925923 ISBN: 8884925924 Pages: 352 Format: paperback
Kleines Mineralienbuch. Sudtirol und Trentino Flexible cover - January 1, 1981 by Reinhard Exel, Christoph Mayr Publisher: Athesia (January 1, 1981) Flexible cover: 80 pages ISBN-10: 8870142418 ISBN-13: 978-8870142419 Article weight: 110 g Used volume cover with signs of discoloring due to time For the rest, the volume is kept very well and the interior...
Mineralien Tirols (Die). Band 2. Nordtirol. Vorallberg und osttirol. Rigid cover - January 1, 1982 by Exel Reinhard. (Author) ISBN 10: 3702214526 ISBN 13: 9783702214524 Publishing house: Athesia, 1982 200 color pages Used volume Cover with signs of discoloring due to sunlight For the rest, the volume is kept very well and the interior is as if it were...
Storia Naturale della Toscana.Le pagine di pietra raccontano.Gianfranco Barsotti, Maurizio Forli & Andrea GuerriniYear 2019 A book whit 326 color pages, 21x29 cm, with hardcoverItalian language The natural history of Tuscany is described and richly illustrated with a scientific metod but fairly popular text completed by numerous figures with original...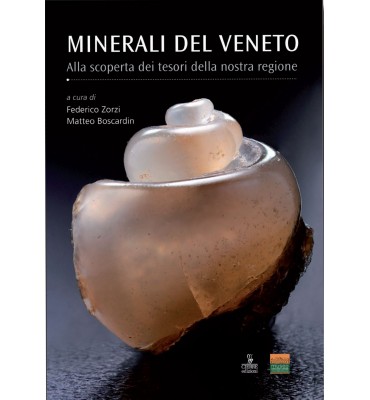 Veneto minerals. Discovering the treasures of our region edited by Federico Zorzi and Matteo Boscardin ITALIAN LANGUAGE size: 17 x 24 cm binding: paperback stitched with flaps pages: 336 price: euro 22.00 isbn: 978 88 8314 577 3 illustrations: color, tables and drawings co-edition: Museo Civico di Montebelluna