Malacology
Volumes dedicated to Malacology
Atlas of Mediterranean Seashells / Atlante delle Conchiglie Marine del Mediterraneo Volume: 4 By: Riccardo Gianuzzi-Savelli (Author), Francesco Pusateri (Author), Alberto Palmeri (Author), Claudio Ebreo (Author), Yuri Kantor (Foreword By)  298 pages, 745+ colour photos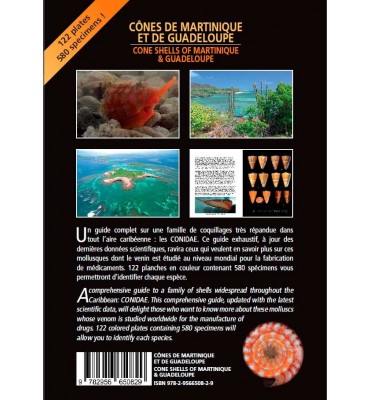 €40.50
-10%
Regular price
€45.00
Price
A comprehensive guide to a family of shells widespread throughout the Caribbean: Conidae. This comprehensive guide, updated with the latest scientific data, will delight those who want to know more about these mollusks whose venom is studied worldwide for the manufacture of drugs. 122 colored plates containing 580 specimens will allow you to identify each...
Le conchiglie. Guida alle conchiglie dell'area marina protetta "Torre del Cerrano" Adriano De Ascentiis Editore: Epigrafia Anno edizione: 2016 Spedizione: 4,63 € (con tracking)
Storia Naturale della Toscana.Le pagine di pietra raccontano.Gianfranco Barsotti, Maurizio Forli & Andrea GuerriniYear 2019 A book whit 326 color pages, 21x29 cm, with hardcoverItalian language The natural history of Tuscany is described and richly illustrated with a scientific metod but fairly popular text completed by numerous figures with original...
€34.20
-10%
Regular price
€38.00
Price
Title: Cone Shells of the Seychelles Author: Touitou, D. Year 2019 Info: 173 pp., 38 color plates, num. color figs, swiss brochure 8 [15 x 21 cm] English language Shipping costs in Italy: € 4.63 Shipping Costs in Europe: from € 8.50 to € 39.00 max